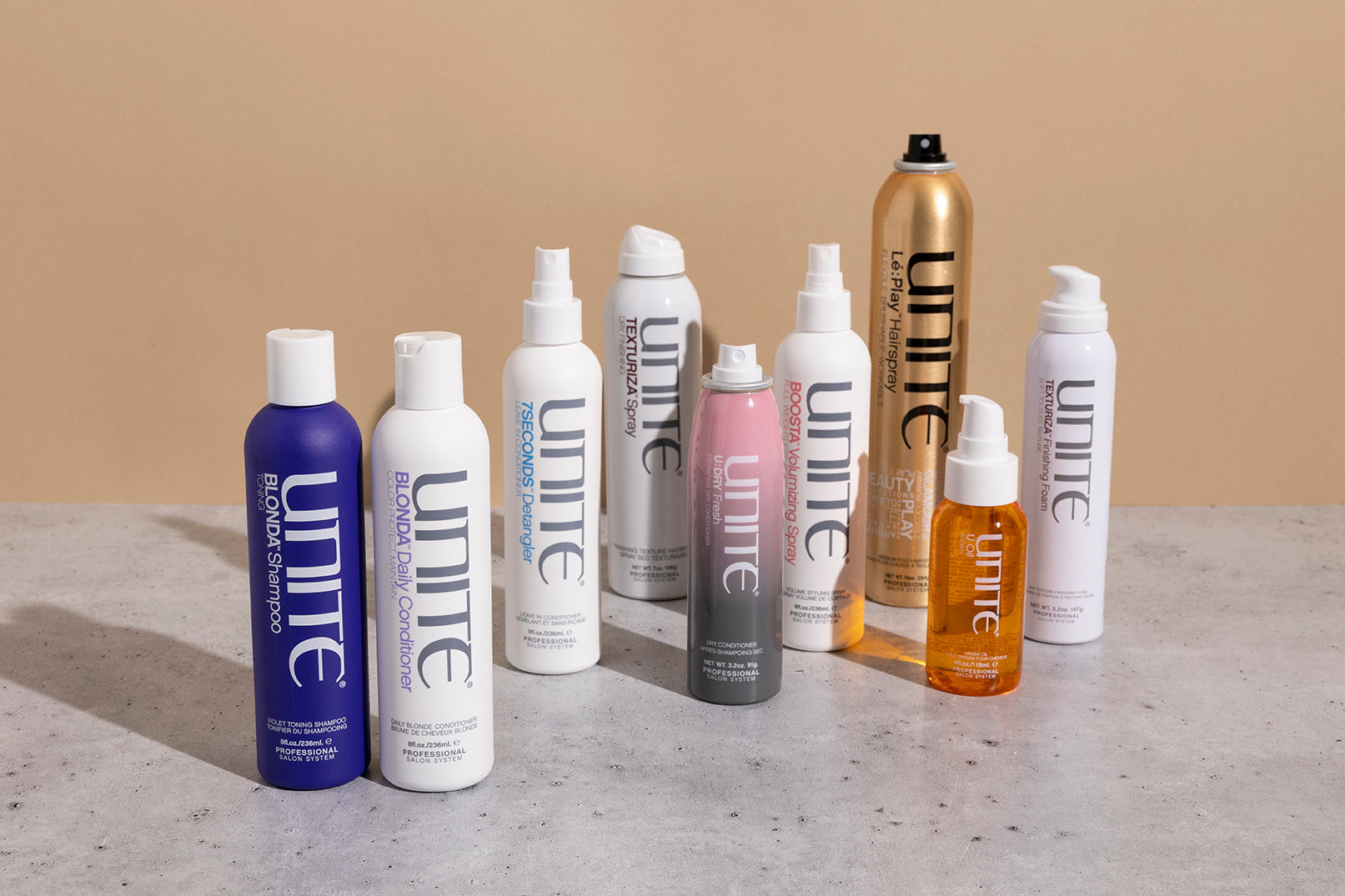 Your hair care is important to us
Here at Caralyn's we believe that the products we use during your service are an integral part of your experience with us. That is why we have chosen to use and provide you with our favourite brands in salon and for at home use!
Unite
Our largest and best selling line of products is Unite Hair. Established in 2003 by celebrity stylist Andrew Dale, these products are easy to use, top performing and cover a wide range of hair types and needs. Their product line is made in america and their entire line is cruelty free, does not contain parabens, sodium chloride, sulphates, harsh chemicals or residues.
Check out their Instagram page @unitehair for inspiration and more information!
Color Wow
Our second product line, Color Wow fills in the gaps that you may have in your hair care routine. A brand created in 2013 by Gail Federici, an industry veteran, as a simple and targeted line for coloured hair. With over 60 ingredients on their "banned" list, Color Wow has become the gold standard for coloured hair, winning countless awards and being featured on runways, catwalks and talk shows alongside their celeb stylist and ambassador Chris Appleton. With each formula as breakthrough, proprietary technology developed in the Color Wow Lab, these products create a "you have to see it to believe it" result every time.
Color Wow hair is also not tested on animals, and contains no parabens, sulfates or toxic ingredients. 
Check out their instagram page @colorwowhair for more inspiration and information!
Schwarzkopf
Here at Caralyn's we are proud to use Schwarzkopf's Colour line. With their award winning Blondme products for our blonding services to their amazing Ammonia Free colour line "Essensity '' and everything in between our talented stylists are able to tailor custom colour looks to your desires and needs. 
Schwarzkopf's roots can be traced back all the way to 1898 Berlin, where founder Hans Schwarzkopf opened a 'dye, drug and perfume store'. Since then Schwarzkopf has been at the helm of innovation with about a dozen firsts for the industry including the first liquid shampoo, the first hairspray and the first coldwave perm. Since then they continue to innovate in the salon with a portion of their innovation being for the environment, including their 2021 initiative creating new packaging made from recycled materials creating a smaller carbon footprint, with the goal of 100% circular packaging by 2025.